Apple Pie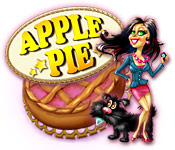 Frazzled by the sudden decision of your jet-setting aunt, you must manage her restaurant and keep her Apple Pie shop afloat. In sweet American fashion, make money to buy renovations for the restaurant. Your aunts spoiled cat, Marcello, can`t seem to get along with the staff, but let`s hope your combos are in good order. Match 3 items or more in this stylish eatery with 15 new recipes for dishes and drinks. Use recipes in real life to entertain friends!
Sweet Match 3 game
Real recipes
Use recipes in real life!
Apple Pie is free to download and play. After you download Apple Pie you have 1 trial hour to decide whether you like it or not. You can buy Apple Pie online right away, instantly and securely.
Manage a sweet, stylish American eatery with Match 3 and Time Management elements in this delectable dessert game.